Reclining shade structure
Our shade structures are ideal to cover residential and commercial terraces and patios. These structures can take on multiple shapes to meet your needs. This way you have the choice between a reclining structure and a fixed one.
If you are looking for an alternative to the parasol, our "INSPIRATION" model is ideal to cover your terrace. Its self-supporting reclinable shade structure let's you adjust the position of the sail according to the sunshine, get an optimal shade any time of the day!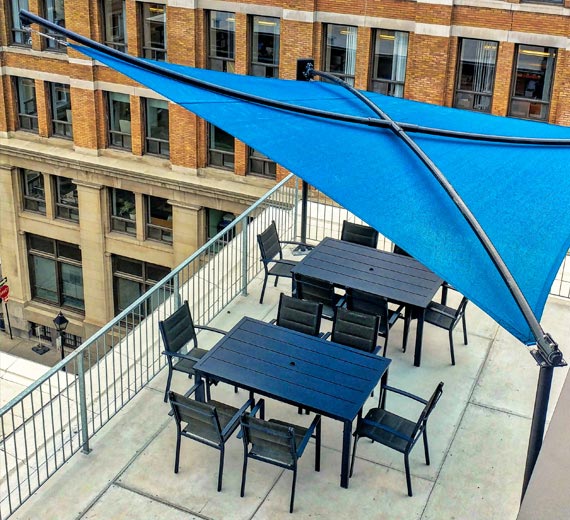 Easy installation

Resistant to strong wind
Reclinable by controller

Up to 98% UV protection
50 sails colors available

Durable powder coated structure
15 years warranty

Made in Canada
INSPIRATION 9: sail 3.0 m X 3.0 m
(floor space required 3.6 m X 3.6 m)
INSPIRATION 18: sail 4.3 m X 4.3 m
( floor space required 4.9 m X 4.9 m)
INSPIRATION 24: sail 4.9 m X 4.9 m
( floor space required 5.5 m X 5.5 m)
Note: The floor space required is 0.6 m larger than the sail
Our « ZEN ZONE » model is the ideal custom made fixed structure to shelter your your dining and relaxation areas. You will enjoy it, especially if you wish to create a shade area in a defined space. Simple and self-hanging, it allows installations on terrace roofs and places where ground anchors are restrained or even impossible to install.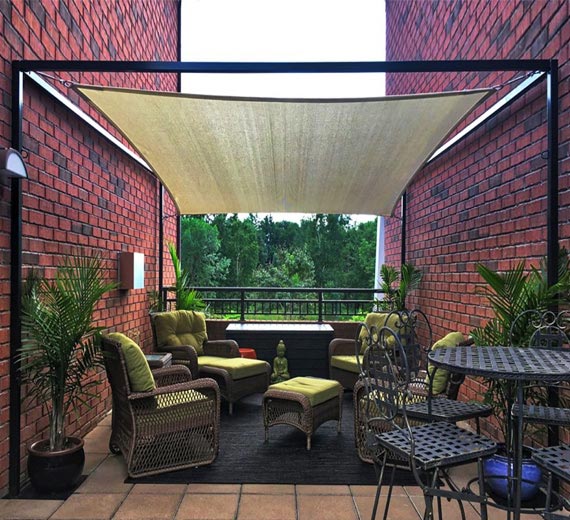 Easy to install (8 pieces)

Multiple positioning possibilities for the sail (multiple rings)
Strong wind resistant

Entirely custom-made
Up to 98% UV protection

50 sails colors available

Made in Canada
 Powder coated durable structure

 15 years warranty